6060eyes is Your Source for High Quality Safety Eyes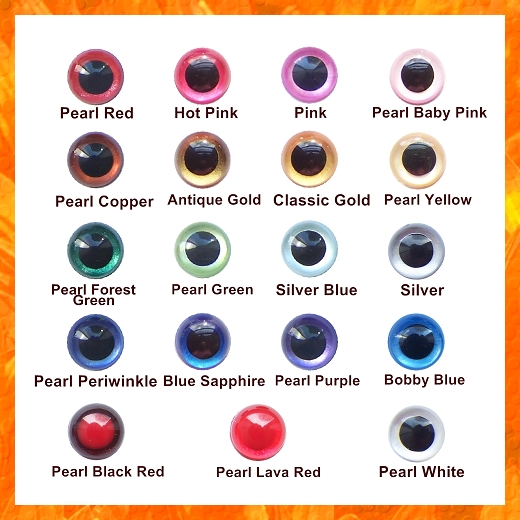 We specialize in high quality factory stock and hand-painted safety eyes, superior selection, fast shipping, and a great customer experience. 6060eyes is the sister site to 6060eyes.etsy.com, a top Etsy seller for over 10 years. Your hand-painted eyes are painted to order and shipped fast.
Located in the USA, our wide selection of stock safety eyes in round, oval, cat, owl and frog styles are perfect for amigurumi, stuffed toys, teddy bears, plush toys, fishing lures, carvings, puppets and more.
In addition to safety eyes, we offer many craft eyes such as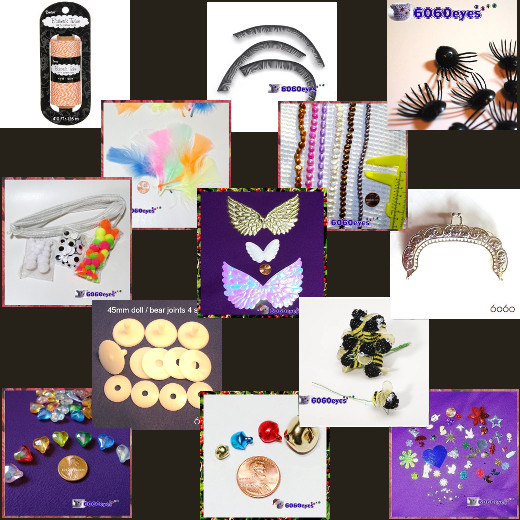 google eyes, sew-on eyes, and printed eyes here for your lovely hand made creations. We also have craft supplies such as purse frames, potato pearls, buttons, animal joints, doll and puppet craft eyelashes, carrot noses and some listings not found on our Etsy.com shop. We hope you enjoy shopping here!
---
Cat Eyes or Round Eyes?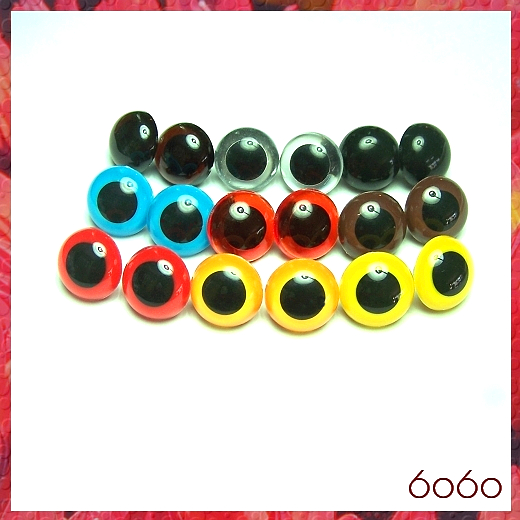 6060eyes has website sections devoted to Cat Eyes and Round Eyes. Each one has unique hand painted designs and factory colors, yet as you browse the site you'll find that most of our hand painted designs and color options are available in both types of eyes. There are some exceptions, however, such as the transparent painted cat eyes (below), which are only available as cat eyes, and our spider eyes, or starfall eyes, which only come in round eyes. We originally divided the site to accomodate the designs unique to one type of eye, but since so many of the designs apply to both types that distinction is almost misleading. We hope you will browse both sections while searching for that perfect match for your special creations.
What's New?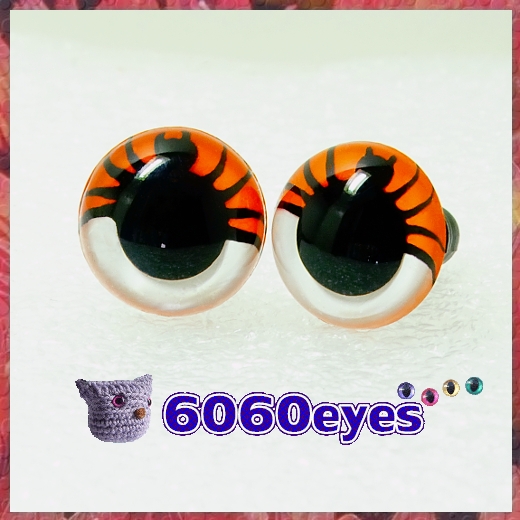 Just in time for Halloween, we've added few new twists on our popular spider eyes. We now offer two-tone spider eyes featuring the spider design on the top with a color background and a white background on the lower half. You can get them in orange, lavender or red.
6060eyes is also happy to offer a new line of extra-large craft eyes. Six inches in diameter (15.24cm), they are like giant wiggly eyes.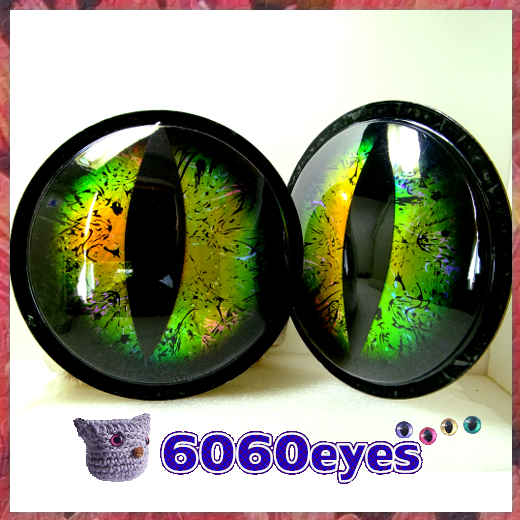 Made of printed cardboard covered with a clear plastic dome, they have flat, peel and stick adhesive backs. Most offer freely moving pupils (except the Steampunk design pictured here). Check them out and let us know how you put them to use by dropping us a line or visiting our facebook page.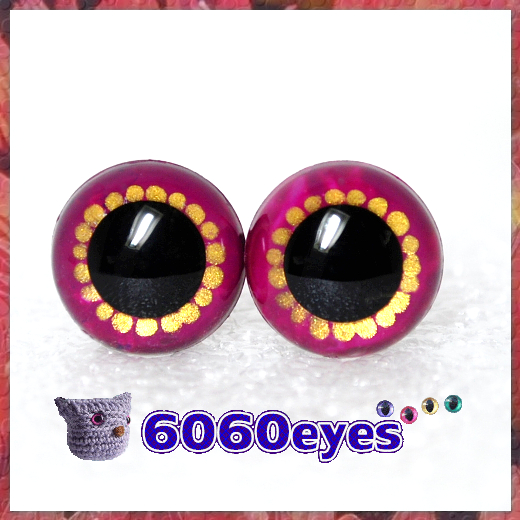 Have you ever noticed how prices always seem to increase right before the Holidays? We've decided to buck the trend and DECREASE our safety eye prices across the website. The only increases you'll see are in the opportunties for you to select the colors and number of pairs you want. Look for the "You Choose" listings in each section. They'll start off with a price of zero and adjust according to your selections.You'll be getting the same high quality safety eyes we always offer for less.
Do you have a design or color combination in mind that we don't already offer? Let us know what you want and we'll try to accomodate your request. You may also suggest alternative color combinations for our current designs that better fit your needs. Just let us know what you need and we'll do our best to deliver.
---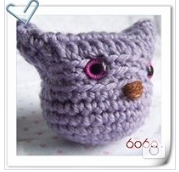 Our website includes a blog feature that we've been playing with as a way to highlight projects some of our customers have produced. We are honored to be a recommended source of eyes for many talented pattern designers. We love to see how our eyes are put to use--especially the hand painted ones. Most of the blog posts are highlights of posts from our facebook page. Stop by and let us know what you've been creating.
6060eyes